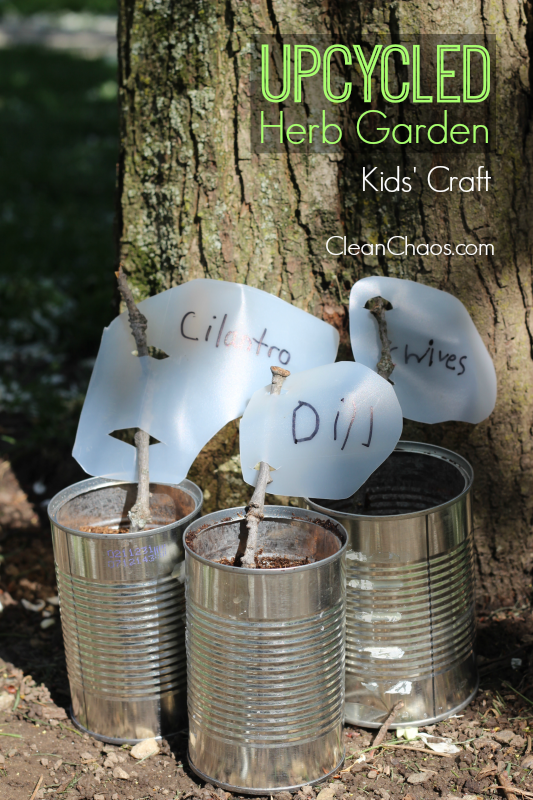 Each summer, usually long after seed-planting time, my kids suddenly have an interest in gardening. This year, I am bound and determined to get a jump on things and start them off with an easy DIY kids' craft, making an herb garden with upcycled materials.
DIY Kids' Craft: Upcycled Herb Garden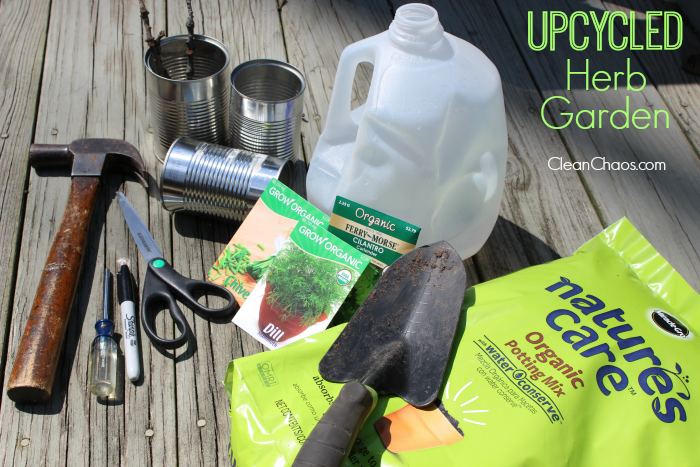 Materials:
Empty tin cans
Herb seeds (we're using dill, cilantro and chives)
Potting soil
Empty plastic container, i.e. milk jug
Thin but sturdy sticks, around 6″ long, 1 for each tin can
Tools you'll need are a trowel, hammer, screwdriver and scissors; you'll also need a permanent marker.
Upcycled Herb Garden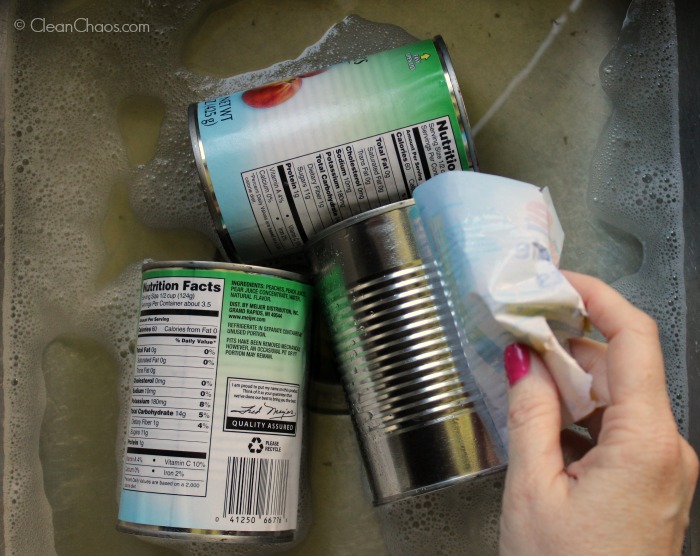 To start off your upcycled herb garden, wash out empty tin cans and remove labels. I ran about an inch of warm water into my kitchen sink, and a half-pump of dish soap, and let my cans soak. There's no need to fill the sink higher than an inch, just rotate your cans so all sides can soak for a minute. The labels peel right off!
Next, on a safe surface, turn cans over so solid bottom is on top. Holding screwdriver carefully, use hammer to tap 4-5 draining holes into bottom of each can.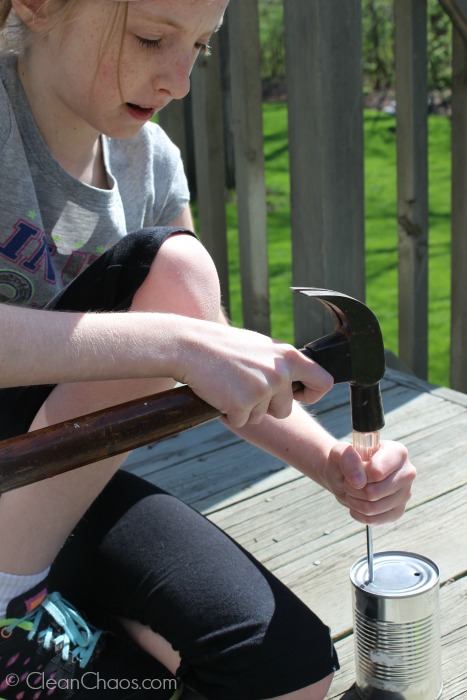 I didn't have small pebbles to place in the bottom of the can to keep the soil from falling through the holes, so instead I had the kids break up small sticks and place into the bottom of each can. I've used pieces of broken pots before, and you can also use a coffee filter.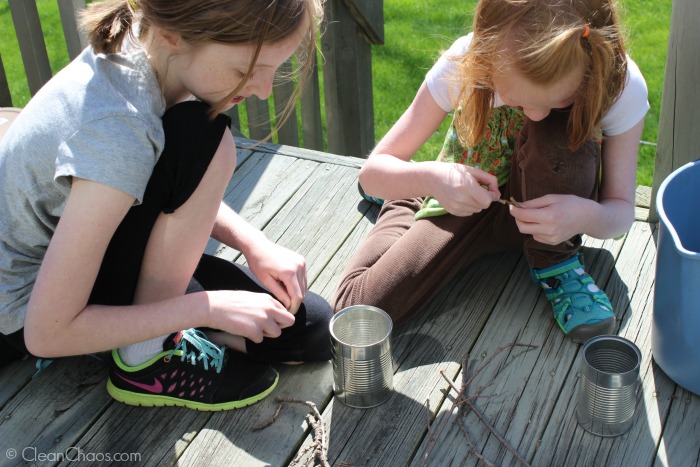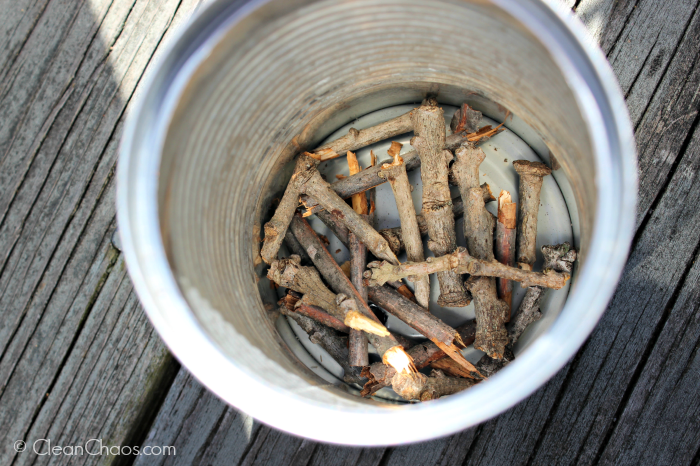 Fill the cans 2/3 full with potting soil. I'm trying Nature's Care organic gardening mix by Miracle Grow.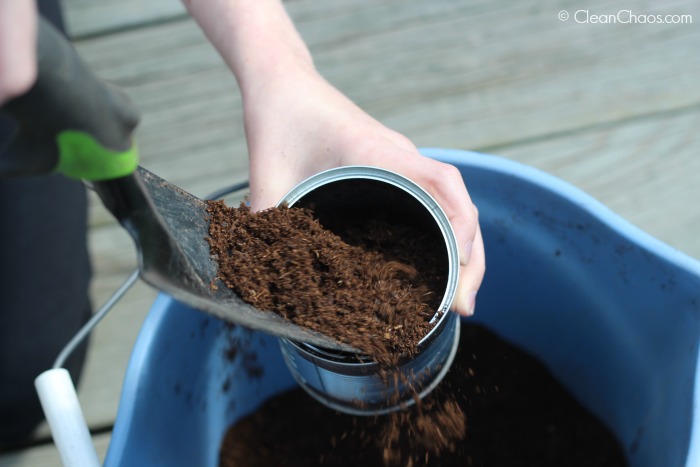 Sprinkle seeds on top of the soil.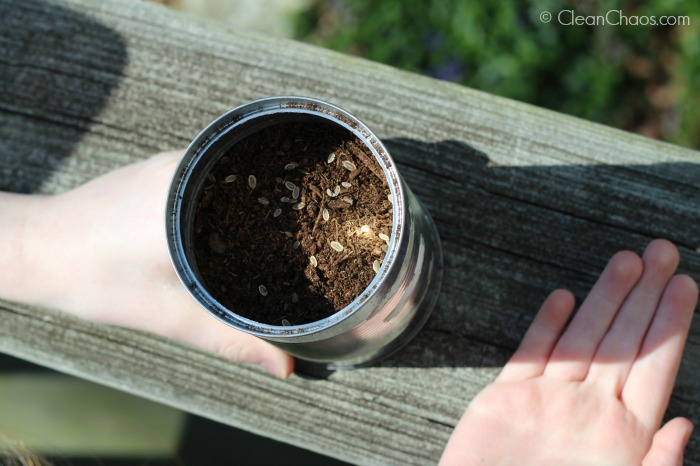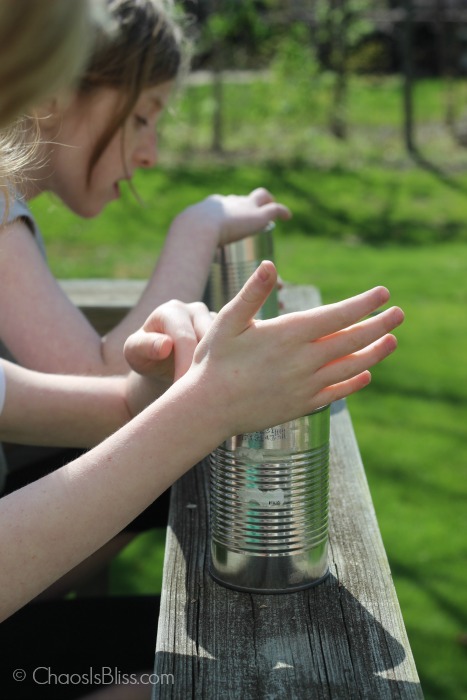 Cover with about 1/2″ more soil, and water gently.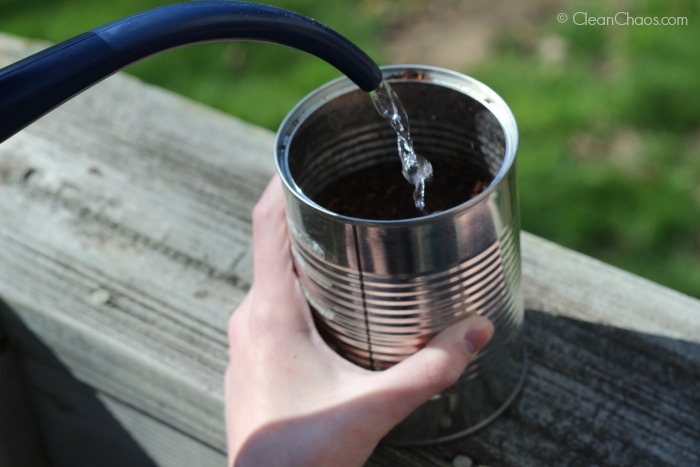 For plant markers, I thought about using scrap paper or cardboard, but of course either would get ruined if they got wet. I came up with another way to upcycle, by using an empty plastic milk jug to make plant markers.
Upcycled Plant Markers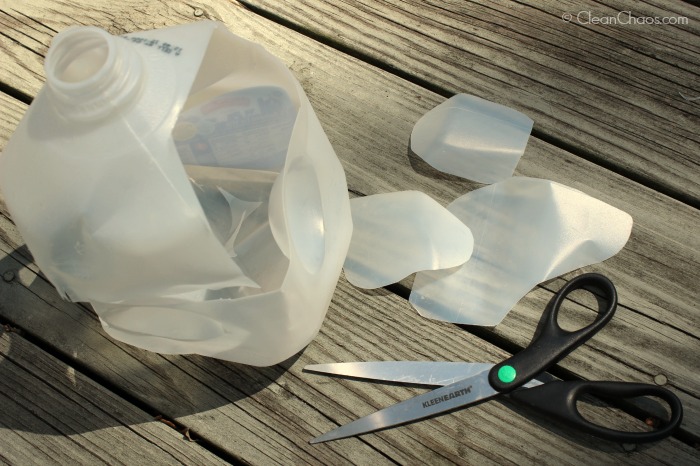 The first step probably should be done by a grown-up. Carefully cut into the empty plastic jug, and cut out a shape around 3-4″ in diameter. Try to use only smooth surfaces, some areas of the jug I was using were textured, which may be hard to write on. Trim corners rounded, so they're not too sharp.
Fold one edge of a plastic piece about 1/2″ in vertically, and cut two small notches out, making two holes.
Have your child place one stick inside the bottom hole, then back outside the top hole – making a little flag pole!
Lastly, your child can write the plant name on the plastic using a permanent marker, and place into correct tin can herb garden.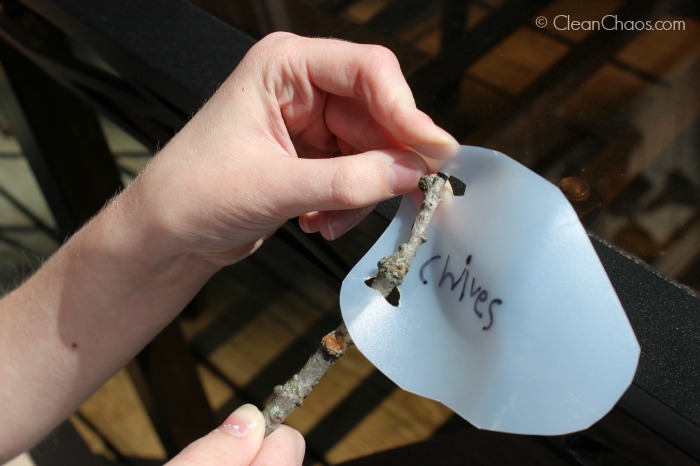 Now your kids can be proud of their DIY Upcycled Herb Garden, help to water the plants and watch them grow!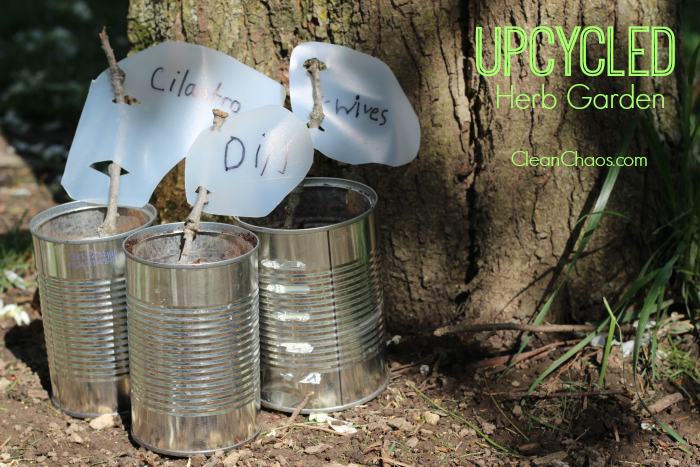 What other ways have you seen to upcycle in gardening?