It's a new year, with a brand new catalog and SO MANY new products to share with you! Here are details on the Norwex January 2019 Host Specials.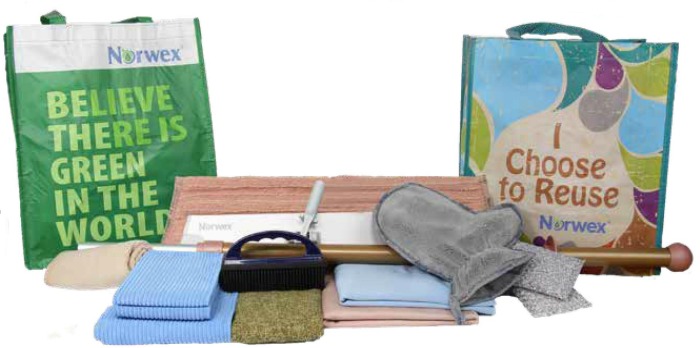 It's Mop Month for January hosts!
Toss out the question "What's your favorite mop?" to your friends, and chances are, one or more will have a personal recommendation of the Norwex Mop System. They either own it themselves, or they've heard wonderful things about it from their friends.
In fact, I had a new customer purchase our mop system last year because the contractor installing their new flooring recommended it over anything else (and he has no ties to Norwex!).
This month you can earn our Nordic Naturals Mop System completely free, in addition to several other eco-friendly products to get your year started off in the cleanest, greenest way!
January 2019 Host Rewards
Our 4-star host program will reward you with free shipping and free Norwex based on party sales, the number of guests that order and bookings for future parties.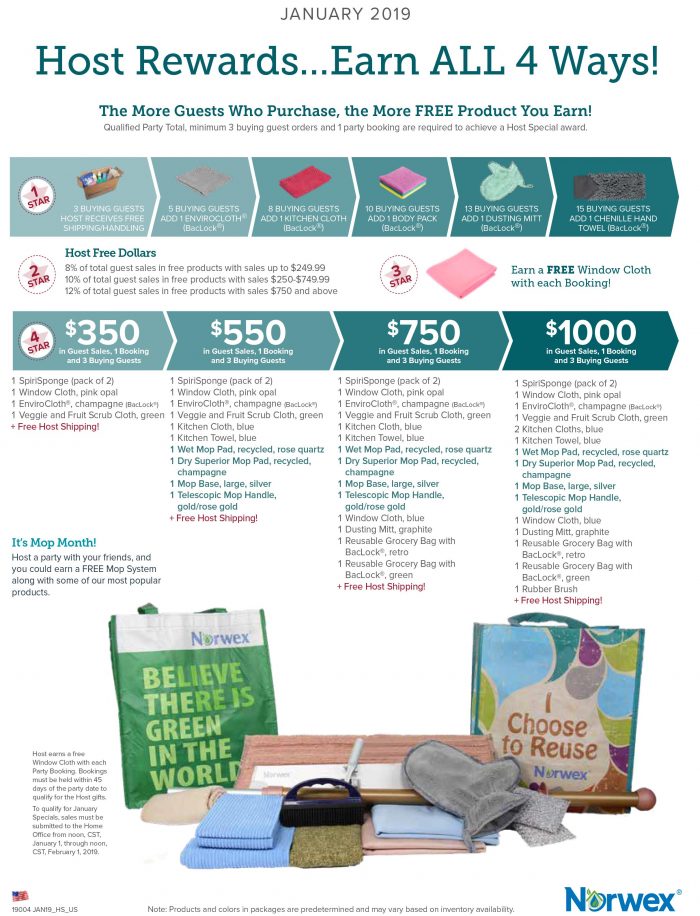 Norwex Host Rewards:
Star 1: Earn free shipping and free products based on the number of buying guests on your party.
Star 2: Earn free shopping credit based on total party sales.
Star 3: Earn a free Window Cloth for every booking attached to your party.
Star 4: Earn a bundle of products FREE when you have at least $350 in party sales, 3 buying guests and 1 booking. Changes monthly!
Print a copy of our January specials here.
For our January 2019 Host Specials, with as little as $550 in party sales from at least 3 guests (including those at your party as well as outside orders, even out-of-state!) and at least 1 booking, you'll earn the following free:
Spirisponge (pack of 2)
Window Cloth, pink opal
EnviroCloth, champagne
Veggie & Fruit Scrub Cloth
Kitchen Cloth, blue
Kitchen Towel, blue
Nordic Naturals Mop System with wet and dry pad (both made from recycled materials), mop base and telescopic mop handle
Window Cloth, pink for each booking
8%-12% of party sales in free shopping spree credit
Free shipping on your host order and more free product with at least 3 buying guests
The more your party sales, the more free Norwex you earn!
Why is the Norwex Mop System so popular?
It uses only water to clean, or nothing at all with our microfiber pads! This means you're not adding layers of harsh chemical cleaners to your floors, that builds up over time.
The base and mop pads are available in two sizes, Mini and Superior to accommodate those with a lot of flooring, or a little!
We now have a new color option, the Nordic Naturals Mop System which is featured in our January 2019 Host Rewards! The Nordic Naturals Mop System includes both Dry and Wet Mop Pads made from 50% recycled materials.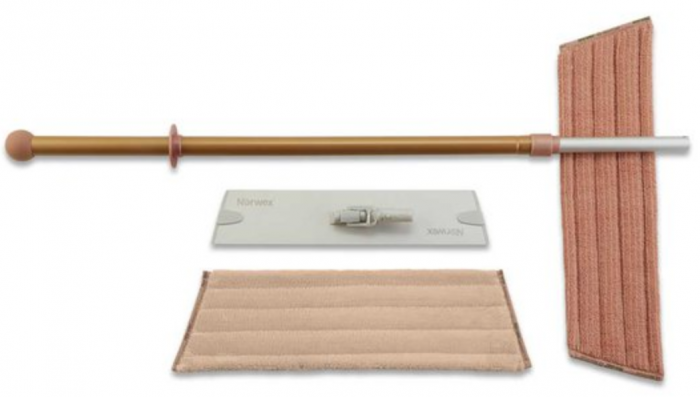 In addition to the dry and wet pads that are included with each system, there are complementary products to make cleaning your floors even easier – such as our new Chenille Dry Mop Pad for dry dusting floors, made with recycled materials!
It works. Really well. Isn't that what's really most important?
How to get the Norwex Mop for FREE
Norwex offers three "mop"tions to get our microfiber mop into your home!
Purchase it – It's worth every penny and will ship right to your door.
Earn it free during Mop Month, or use free shopping credit to purchase it at a great discount when you host a party with me.
Join us as an independent sales consultant and receive it in your Party Starter Kit – which you can also earn for free!
Browse our brand new Norwex Spring 2019 Catalog, or head straight to our New Spring Products insert.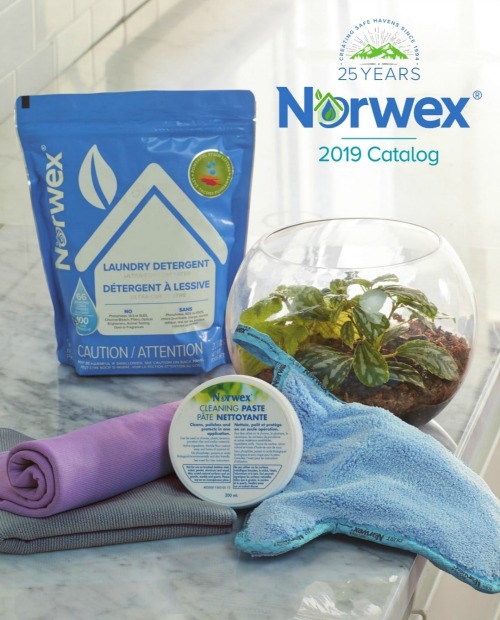 Contact me to set a date for your home party (central Indiana) or online/catalog party, and earn our January 2019 host specials!