Featured this month in our Norwex March specials 2023 are several eco-friendly and sustainable kitchen products!
Norwex March Host Rewards
This month features the return of our super popular host-exclusive Large Entry Mat! It's much larger than our regular-line Entry Mat!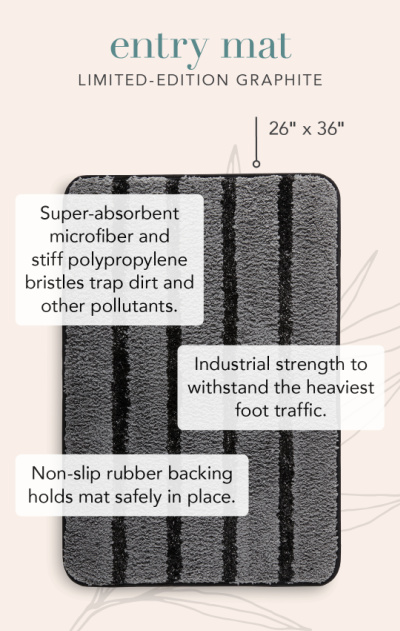 When you host a Norwex event with your friends, you're not only having fun and reconnecting, but you're also helping to educate those closest to you about living in a home and community with fewer toxic chemicals.
In addition to the dirt-stopping Large Entry Mat, these kitchen items are also included in March host rewards: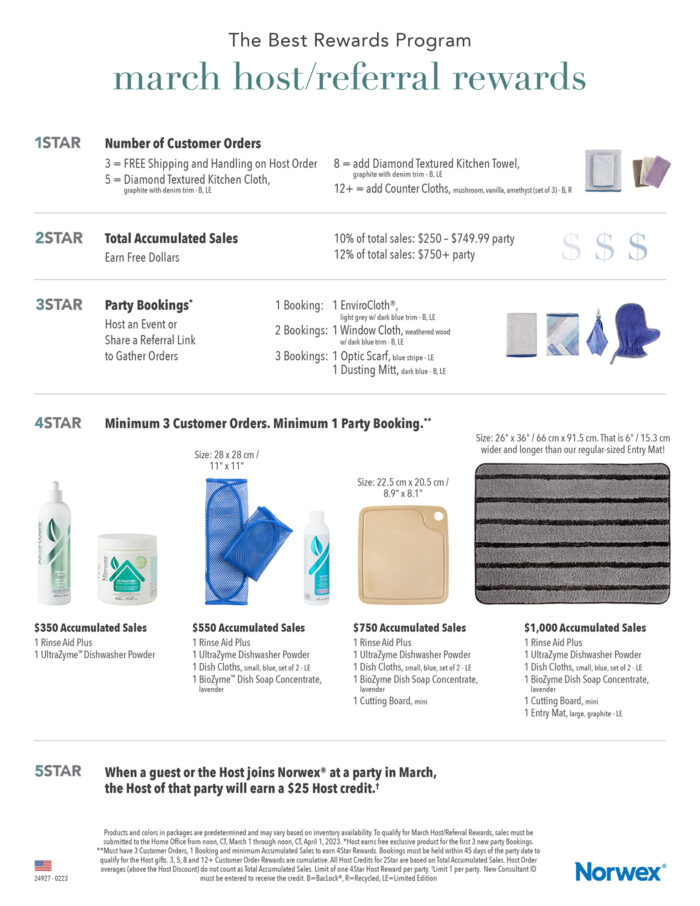 I would love to help you earn our free hosting rewards! Reach out to me to chat about a party online, in your home, or hybrid – lots of options!
March Spend & Get Specials & Sales
When you spend $99 retail on anything in our catalog, you can get a limited edition Veggie & Fruit Scrub Mitt for only $12! It's similar to this one, but the color is silver with avocado trim.
And when your product total is $110 or more, you can also choose to add on our Fresh Produce Wash for just $15!
See these Spend & Get offers for March below: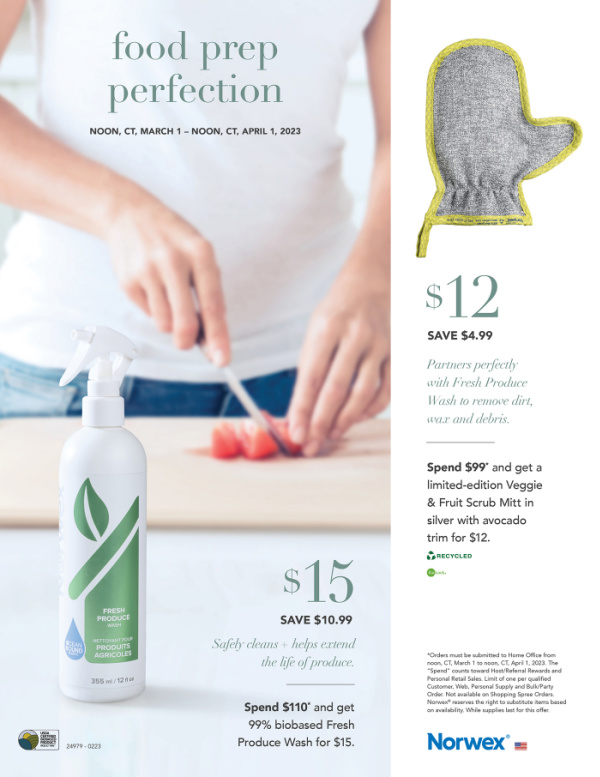 March Price Drop
Guess what? Our Kids Pet to Dry hand towels with BacLock microsilver have had a $5 price drop! There are 5 cute characters to choose from.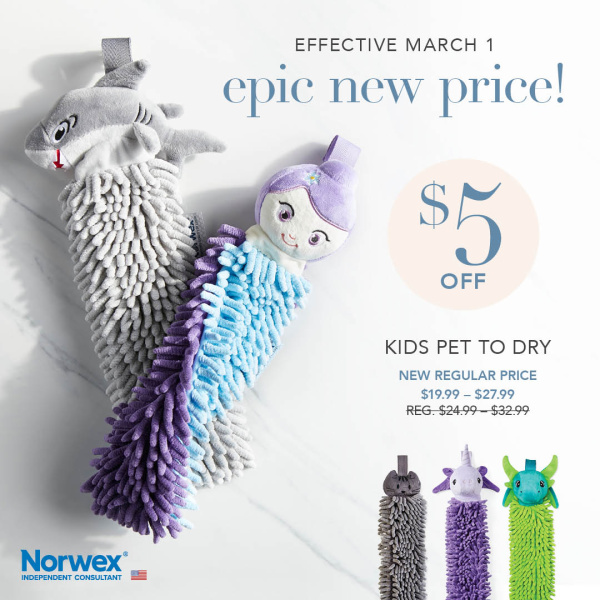 March Mission Bundle
This bundle of safe and sustainable Norwex offers you a $27 savings! Order the bundle here.
Includes: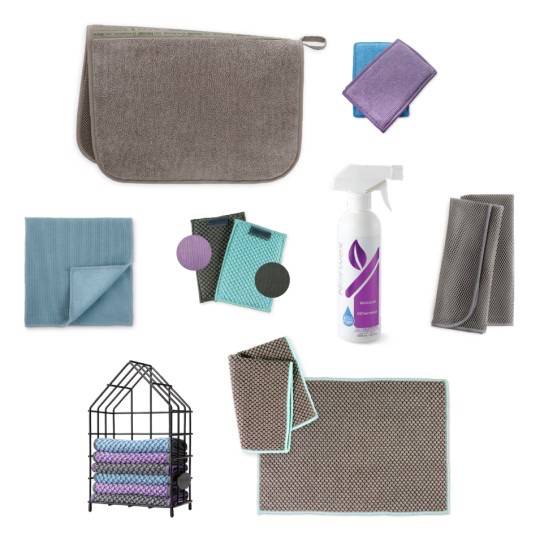 Psst … did you know that as a Norwex consultant, you save 35% on every purchase? The bundle above would be $162.57 after your consultant discount!
March New Consultant Starter Kit
Through 12pm CT April 1st, new Norwex consultants will receive a bonus valued at nearly $60 in your starter kit!
Enjoy these perks and more!
Immediate 35% discount
Immediate 35% earned on all sales
6-month free trial of Office Suite (e-commerce store & more)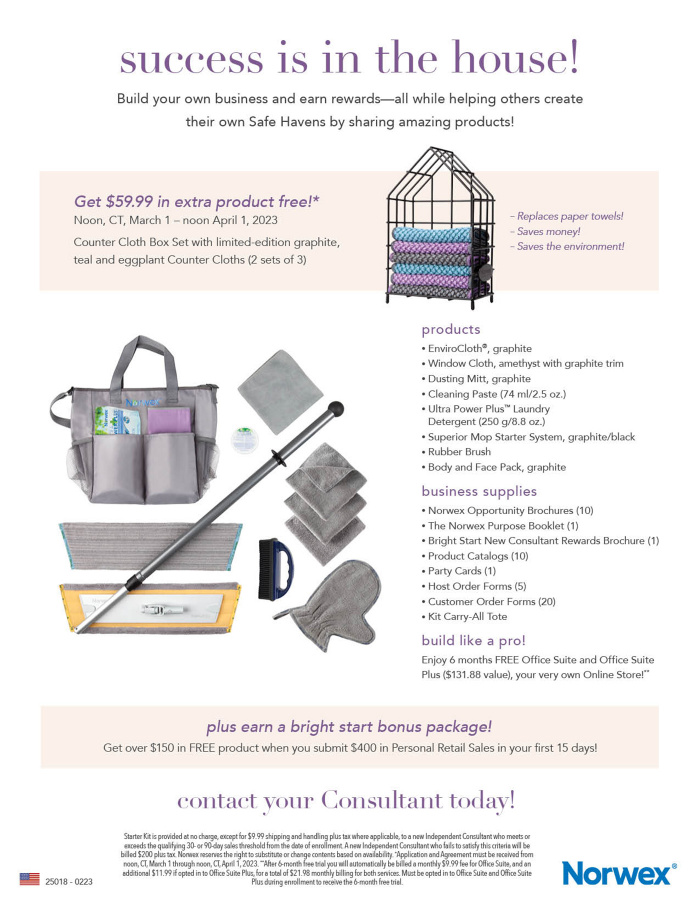 Opening a consultant account is easy! You'll pay just $9.99 + tax to ship the full starter kit – nothing else is required up front! You'll have 90 days to submit $2,000 in sales to earn the kit free – an average of just $667/month. You can earn it free even faster when you submit $1,000 in sales your first 30 days!
If neither goal is met, the cost of the starter kit ($200) will be billed to you after your first 30 days.
Open your consultant account here, and reach out to me with any questions – I'm happy to help!