Start the new year off with a new career, by joining us with our Norwex new consultant Safe Haven 5 Kit!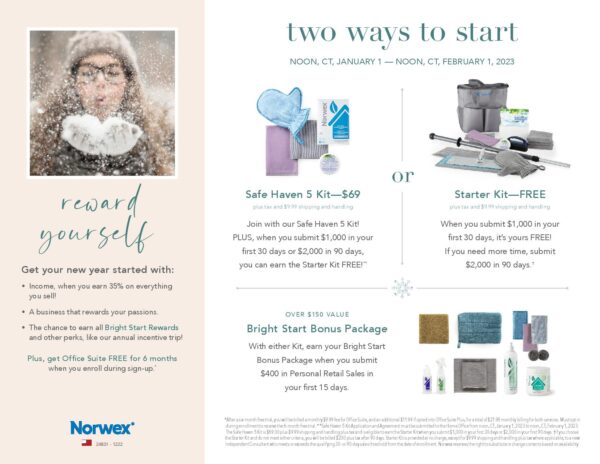 This special Norwex starter kit promotion is only available through noon central time, February 1, 2023.
If you would like the perks of being a Norwex consultant, including earning additional income for your family, but without the pressure of sales requirements … this might be the perfect starter kit for you!
New Consultant Safe Haven 5 Kit FAQs
Q. How can I start with the New Consultant Safe Haven 5 Kit?
A. Visit my consultant website to join. Select this special starter kit, and pay $69 (US, $78 CA) plus $9.99 shipping + taxes.
Q. What's included?
A. This offer comes with our top five essentials for creating your own Safe Haven: one each of our EnviroCloth, Window Cloth, Dusting Mitt, Cleaning Paste, and the new Eco-Wash Laundry Detergent Strips. This option also includes access to all digital tools, resources and our generous 35% consultant retail discount.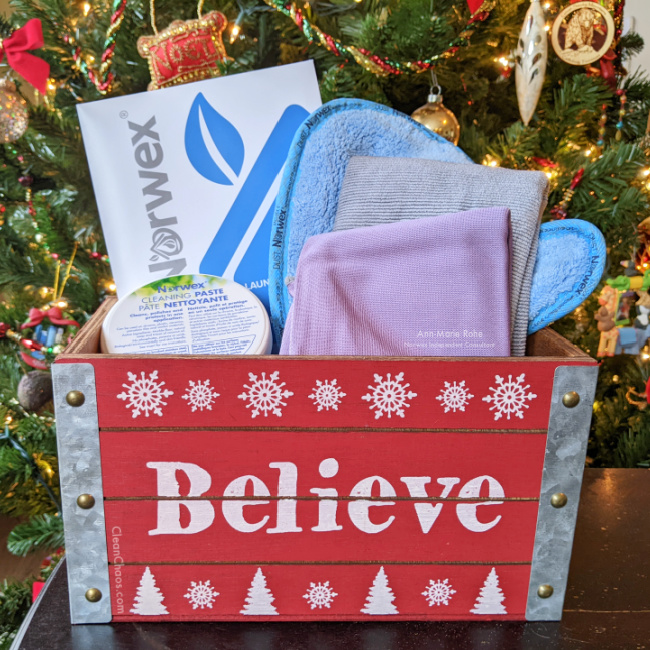 Q. Can a Consultant start the "traditional" (Starter Kit) way?
A. Absolutely! The traditional Starter Kit option is always available. You'll pay just $9.99 + tax for shipping the full kit, and the $200 cost won't be charged until after your first 90 days. In the meantime, when you sell $1,000 in your first 30 days or $2,000 in your first 90 days, you'll earn it free!
Q. What are the minimum sales requirements for this Safe Haven 5 Kit?
A. There are no sales requirements with this Safe Haven 5 Kit. However, you can earn bonus incentives! When you sell $1,000 in 30 days or $2,000 in 90 days, Norwex will ship our regular Starter Kit (shown above) for FREE!
Q. Will I still qualify for Bright Start Rewards?
A.YES! View the PDF for our Bright Start Rewards program.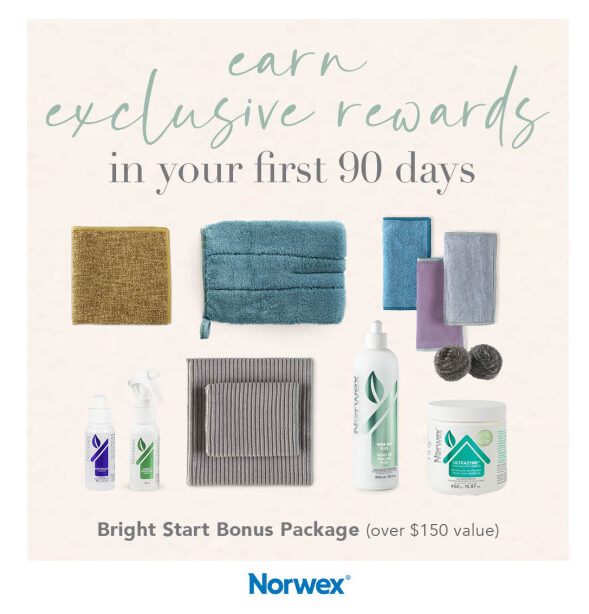 Q. What about resources like my own consultant website and other digital tools?
A. All new Consultants will enjoy access to our Office Suite FREE for their first 6 months!
Q. If I join with the new consultant Safe Haven 5 Kit, can I choose to add the Upgrade Package?
A. Yes! The optional Upgrade Package is available for all Kit options. It must be purchased during the enrollment process, and has a separate shipping charge of $9.99 + tax. The best part is, those who choose to add on the Upgrade Package automatically earn the Bright Start Bonus Package above, because the retail value to earn that incentive is met!
Q. If I join with the Safe Haven 5 Kit, do I earn additional rewards for team building?
A. Yes! Starting your new Norwex business alongside a friend is a fun way to learn and encourage one another! Page 3 of our Bright Start Rewards Program outlines the shopping sprees available when you begin team building right away.
If I've missed any burning questions, reach out to me! If you're ready to work alongside us as a Norwex Independent Consultant, you may sign up here.
There's room for you!