Do you do all that you can to check product ingredients before slathering them on your skin? Skin is your body's largest organ, and everything that touches it has the propensity to seep into your pores and into your bloodstream.
Is it time to clean up your skin care, and look at something with minimal ingredients that are safe and natural?
I wanted to try unsoaped for this very reason – and while I'm at it, offer an unsoaped bar to one of my lucky readers who would like to try it too!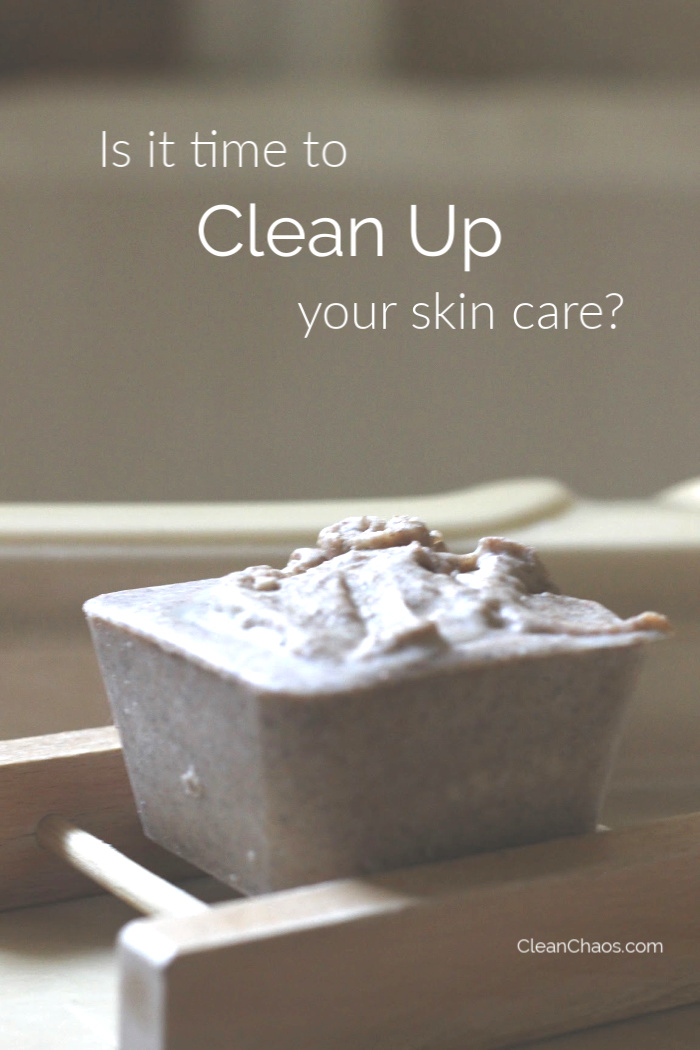 Following is a guest post by my friend Tawni, founder of unsoaped, LLC. Read through to the bottom for my take on this product, and a giveaway of a bar of unsoaped to one of my readers!
unsoaped
Does your skin feel "squeaky clean" after a shower? (More importantly, should it?) SO CLEAN  that you need to apply a lotion or body butter afterwards? Then, at night, you apply MORE lotion to your lower legs, especially on the inside of your ankles, because they feel dry or itchy? (That's always been my 'dry spot'.)
Take a look at the product ingredients in your soap, body wash, lotion or body butter. Do you know:
What each ingredient's purpose is?

How to pronounce each ingredient?

Why that 'dry spot' you have NEVER EVER seems to resolve?

Why 'water' is the first ingredient in your body wash and lotion? (HINT: It's all there in the ingredients!).
Typical ingredients found in conventional body wash can include: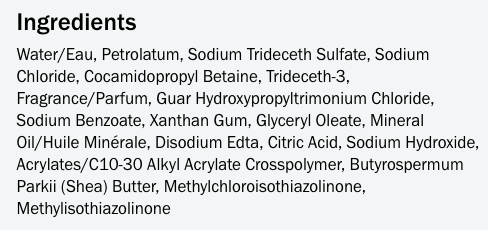 Water. GLORIOUS water. Our bodies are approximately 60% water. The problem with water is almost everything loves it and needs it to live – including bacteria, molds, fungus…you get the picture. Putting water in a skin care product requires synthetic chemicals to inhibit all those undesirable things from living (and thriving). And you're putting those chemicals on your skin, which your body absorbs. (BLECH.)
Your skin is your largest organ and is a physical, protective barrier that not only protects your body from harsh elements but also allows your body to retain moisture (water). It produces oil, creating a lipid barrier that keeps your skin hydrated and healthy. It's also permeable, allowing absorption of what is placed on it.
If your skin is "squeaky clean" after your shower, you've just washed that lipid barrier away. And to replenish it, you cover your skin with lotion, and your skin absorbs all of those ingredients into your body. And your 'dry spot' NEVER GOES AWAY. (Sound familiar?)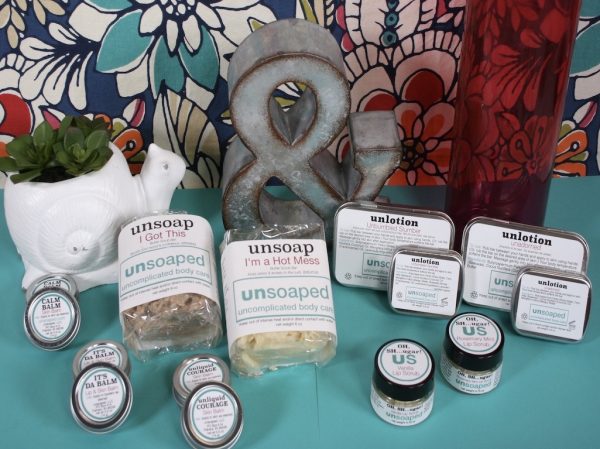 What we've learned about skin care needs to change. There is a better way to care for your skin! At unsoaped, LLC we want to help you achieve your best you possible by creating body products with minimal, intentional ingredients that not only care for your skin but also positively affect your mind.
All unsoaped, LLC products are free of water, synthetic chemicals, added preservatives, and colorants, and are packaged and shipped in environmentally-friendly materials that are reusable, recyclable (TRULY recyclable – we avoid plastic whenever possible), or compostable. Good for you, and good for the Earth.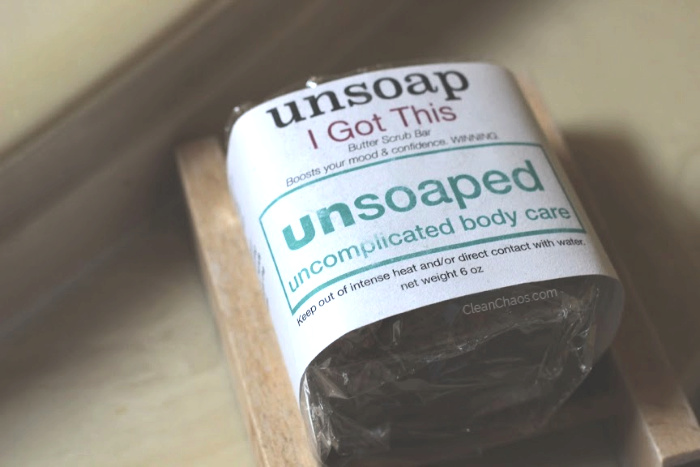 unsoap: a butter scrub bar that replaces both your soap and lotion, made with THREE CORE INGREDIENTS – cocoa butter, shea butter, and an exfoliant (pink Himalayan salt or ground apricot shells), and our own essential oil blends made from oils that are known to be fabulous for the skin and mind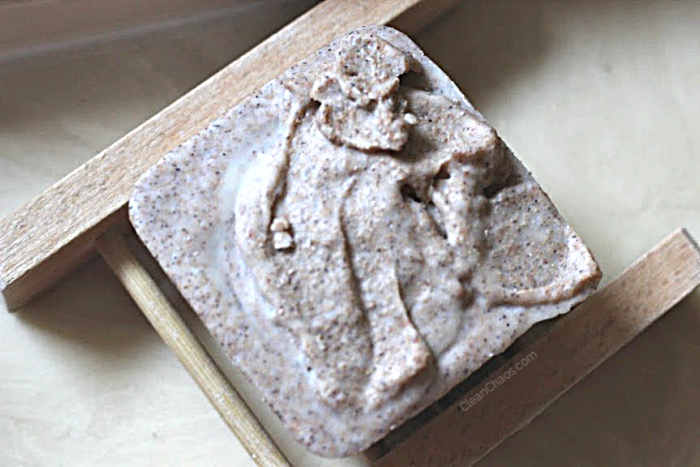 unlotion: a solid lotion bar made with FOUR CORE INGREDIENTS – shea butter, beeswax, coconut oil, and mango butter and use the same essential oil blends used with unsoap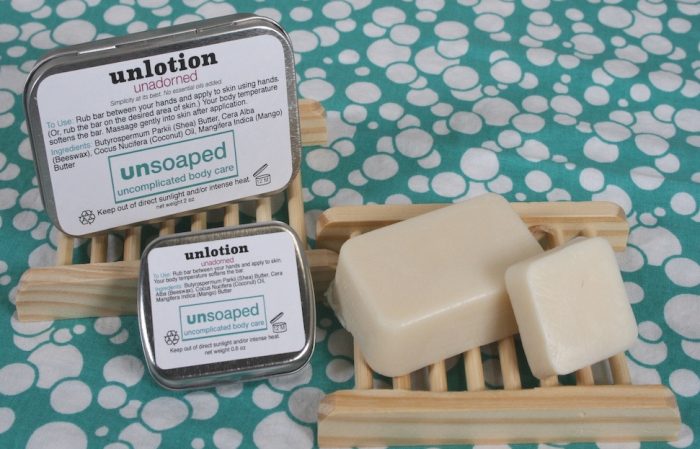 You've cleaned up your kitchen by getting rid of trans fats and minimizing prepared foods. And you've switched out your cleaning products to using vinegar, essential oils, and Norwex. Isn't it time to clean up your skin and body care products next?
Order unsoaped products online, and join us on social media as we continue our journey to uncomplicated body care:
unsoaped Review
Tawni provided me with an unsoap bar to try for myself, and I selected "I Got This" scent, which "Boosts your mood and confidence. WINNING." It's made with the three key ingredients mentioned above (cocoa butter, shea butter and ground apricot shells), plus certified organic lavender oil, clary sage oil and ylang ylang oil.
One point to note, you'll want to follow the directions for product usage clearly outlined on her website. Unlike conventional bar soaps, you will want to keep unsoap out of water.
Because I'm a good girl and followed directions, after first getting rinsed in the shower, I turned the water off, grabbed my unsoap, and rolled it over making 'stripes' on my body. I placed it back outside the shower onto a bamboo soap rack, then turned the water back on to work the unsoap around on my skin, before my final rinse.
I loved the scent, and the ground apricot shells truly helped to gently exfoliate the rough patches on my heels, especially!
unsoap Giveaway
UPDATE: This contest is now closed. Congrats Brooke R!
Here's your chance for trying a bar of unsoap for yourself! Enter through the widget below, or if you're on mobile you can also enter the giveaway through this link.
The contest runs now through 11:59pm ET Sunday, May 19th. One winner will be chosen at random and will receive one 6 oz. bar of unsoap, in the scent of your choice. Good luck!
a Rafflecopter giveaway
About unsoaped, LLC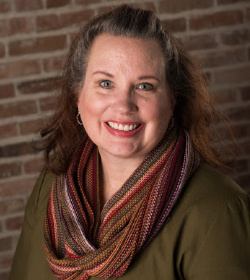 Tawni Reller is the founder of unsoaped, LLC, and started her journey to uncomplicated body care out of a love for science and the need for a better solution for a healthier skin and body. Unable to find skin care products that met what she thought were realistic standards, she decided to try making them on her own. That led to a couple of friends asking to try them, and then a few more friends, which evolved into forming unsoaped, LLC. Her background in clinical laboratory science was key to this process, and while she no longer works in a health care setting, she is a firm believer that you can take the girl out of the lab but you can't take the (love of) lab out of the girl. All unsoaped, LLC products are handcrafted with love and intention, and you can clearly understand what each ingredient is in each product.
You may also like to learn How to start composting: