Welcome to April!
I encourage you to find joy and spread kindness this month!
Joy in the little things … the sounds of birds chirping, spring flowers beginning to bud, and the promise of new life!
Kindness in places desperately needing appreciation, from grocery store associates to nurses and doctors healing and giving hope.
An Update on Masks
It was announced earlier this week that Norwex is donating one million masks to frontline personnel in the hardest hit markets, and Norwex Personal Use Masks are in production and will soon be available to order. Gah! My heart explodes with gratitude toward our company for pivoting in a quick way to provide these much needed masks.
Today, we learned that Norwex consultants will be first to order the masks personally (limit of 12) in a pre-release in late April. Then in early May, customers and general public will be able to order masks (limit of 12). Learn more in my updated post here. and learn about our consultant opportunity here.
April Host Specials
It's mop month again! Earn our fan-favorite mop system free when you host a qualifying online party during April.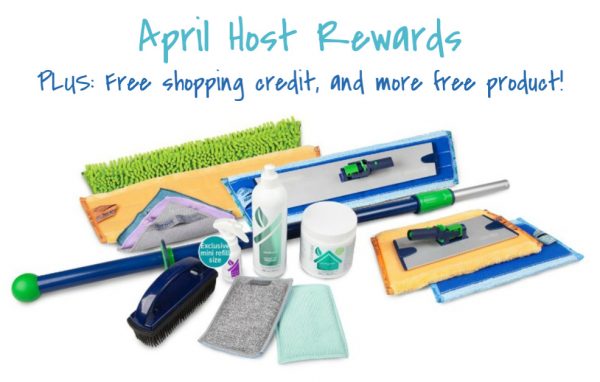 Hosting a Norwex online event is EASY:
Set a 4-day timeframe with me, and I'll create a private Facebook group for your event.
Invite your friends, family, colleagues from anywhere in the U.S.!
Share what you love about Norwex, and I'll share facts & videos about Norwex and our commitment to a safer, healthier planet.
Collect orders and cash in on free host rewards!
Your friends will thank you for introducing them to a safer, healthier, quicker and easier way to clean, with Norwex!
Read more about our hosting program and contact me soon to reserve your date!
April Customer Specials
When you attend a party, or shop online with me, you can purchase any or all of our Customer Specials!
First, we have a freebie and a spend & get! With orders of $99 or more you'll get a free Mini Mattress Cleaner and Mini Bathroom Cleaner, which are great trial sizes! And with a product order of $110 or more you can purchase our Microfiber Cleaner Laundry Booster for just $15!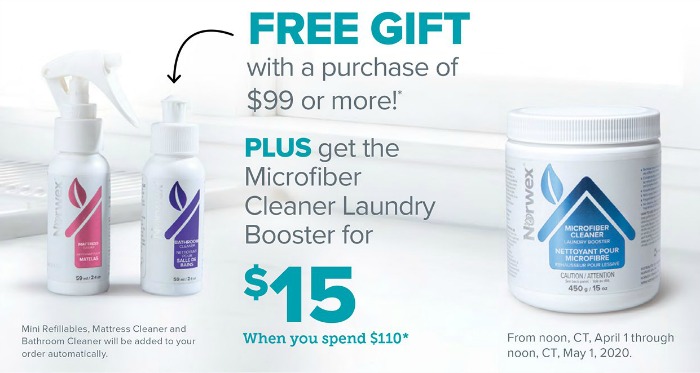 And with Earth Day happening during April, we are featuring three sustainable products bundled together: Stainless Steel Straws, Reusable Produce Bags and Reusable Grocery Bag with BacLock! Order the Shop Sustainability set here.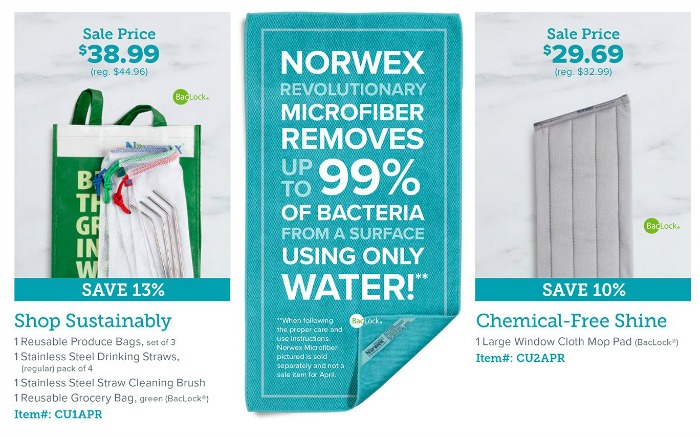 And lastly we've also put our Window Cloth Mop Pad on special during April! Use this with our microfiber Mop System for high-sheen floors, or for tall, hard-to-reach windows!
April Warehouse Sale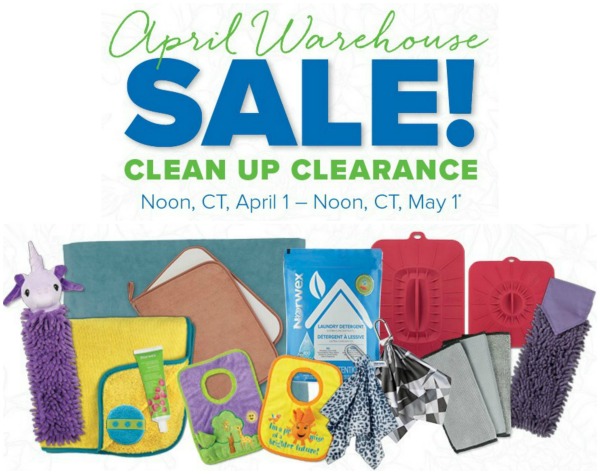 We've also released a Warehouse Sale! This is the perfect chance to stock up on Laundry Detergent, try out one of our two Optic Scarves or maybe pick out a Toddler Bib for that munchkin in your life!
If I can help answer any questions, please reach out to me here or on Facebook!