Grab a Mystery Bag, save on our Superior Mop System, limited edition items and so much more in our Norwex October 2021 specials!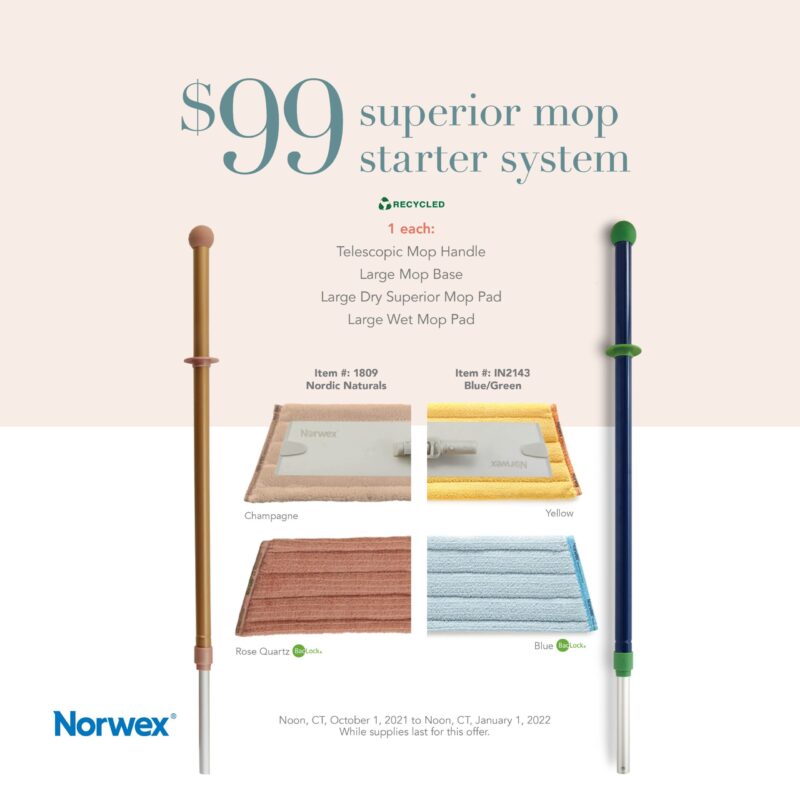 Every time I think our company has gone above and beyond, they blow my mind once more! Never in my eight years as a Norwex consultant have we offered our Superior Mop System – the mac daddy of all mops – as a customer special. But it's here!
$99 Norwex Mop System
What makes the Norwex mop system worth every penny? Watch this 1-minute video to see why so many customers recommend our mop system, and grab it for only $99 while supplies last. Choose our original blue and green colors, or our Nordic Naturals colors.
See the
full list of features & benefits
, and here are three highlights:
The included Norwex microfiber wet and dry mop pads mechanically remove dirt, debris and dust bunnies from your floors.
The wet pad contains BacLock, our microsilver antimicrobial agent for self-cleansing the microfiber pad.
Our mop system is versatile! The telescopic mop handle adjusts for different user heights (yes, even kids!), and can be used with our EnviroWand to reach high objects for dusting (such as ceiling fan blades).
During October, we've renamed it as our Mission Mop! A portion of sales from purchases of the Mission Mop System will go toward our partnership project with Washed Ashore.

$59.99 Mystery Bundles
Grab bags are so fun, you never know what's inside! But with Norwex, you do know it will be good for your family, your home and the environment!
Choose one of 9 categories for your $59.99 bundle. Each bundle has a different value, up to $96.96! Order your Mystery Boo Bag here.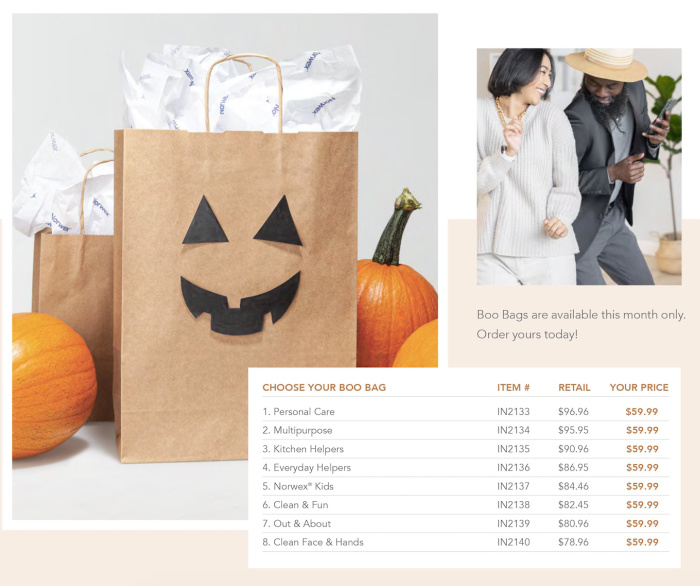 More Norwex October 2021 Specials
We have four additional customer specials this month!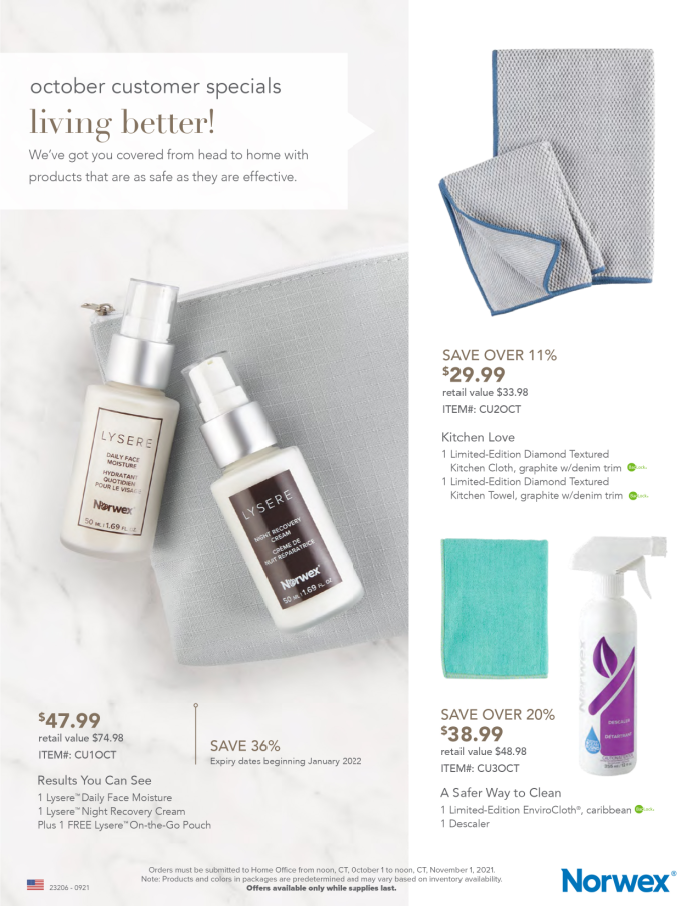 October 2021 Spend & Get Offers
We're not done yet! When you spend at least $50 on your Norwex order this month, you'll unlock more specials!
Get a FREE Norwex facial mask when you spend at least $50 on products. Read all about our personal use face masks!
Get 2 Ltd. Ed. Counter Cloths, large, for only $5 when you spend at least $99 on products.
Get our Heavy Duty Degreaser Concentrate and Spirinetts (2-pack) for only $15 when you spend at least $110 on products.
These spend & get offers are cumulative!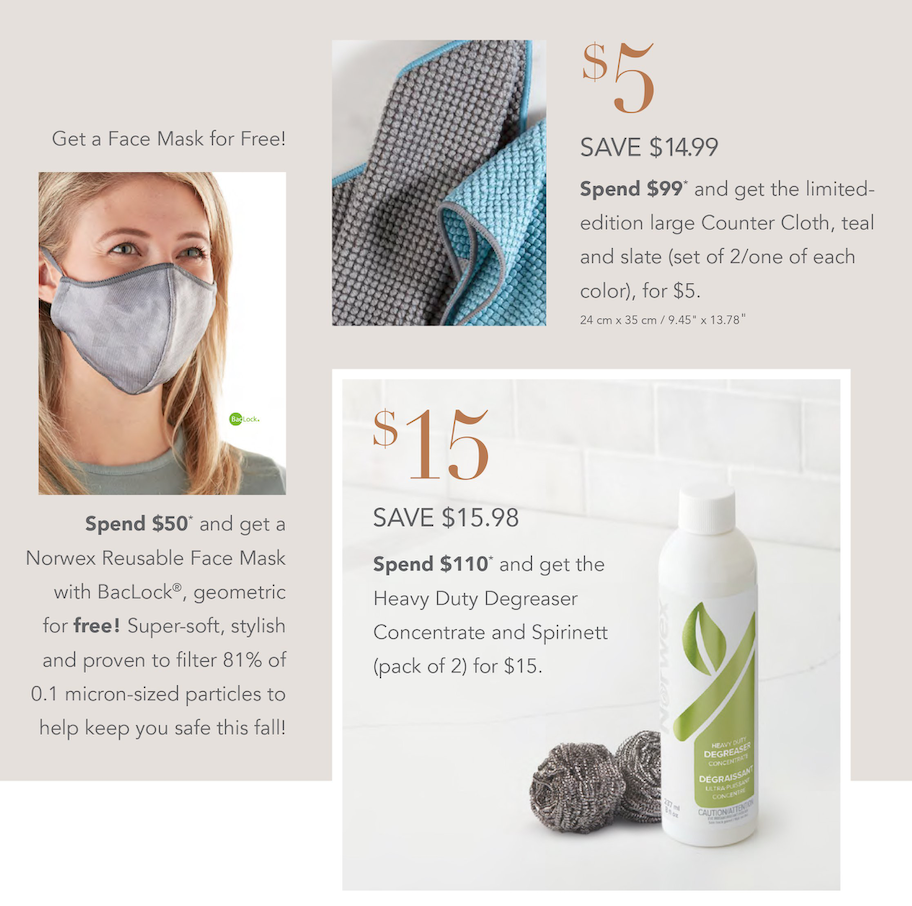 Shop through my Norwex online store at any time for these Norwex October 2021 specials.