Norwex February 2021 Specials
It's the month of love, and I'd love to share with you our Norwex February 2021 specials!
Norwex February Host Specials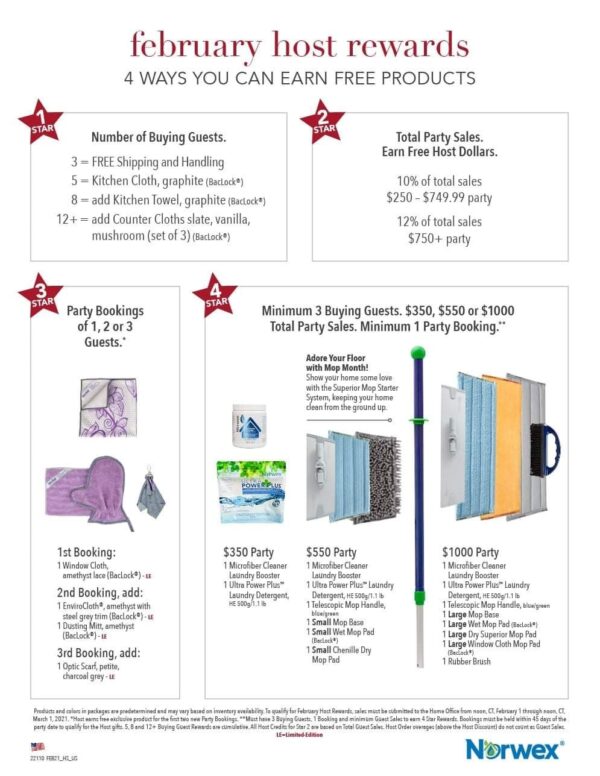 The star of the show is our Superior Mop System, which can be earned free when you host a Norwex workshop with your friends during February!
Watch and learn what makes our mop system so special:
Would you like to learn more about our products, or introduce your friends by hosting a workshop?
Complete this form
and I'll be in touch!
Norwex February Customer Specials
This month features two special price offerings …
Our Kitchen Towels and Kitchen Cloths are made of thirsty Norwex microfiber, ready to clean your counters, dry your dishes and soak up spills!
We have a new, nontoxic "clean" hair care line! Learn about it here (be sure to click "Show full description". This Travel Trio is perfectly portioned for on-the-go or as a trial set before purchasing the full size.
… And two "Spend and Get" offers:
Spend $99 and get our Reusable Face Masks with BacLock (1 in each adult pattern) for only $12
Spend $120 and get our Wristlet and Hand Sanitizer for only $12
If you don't yet have one of our masks, learn about Norwex personal use masks that filter 81% of .1 micron size particles.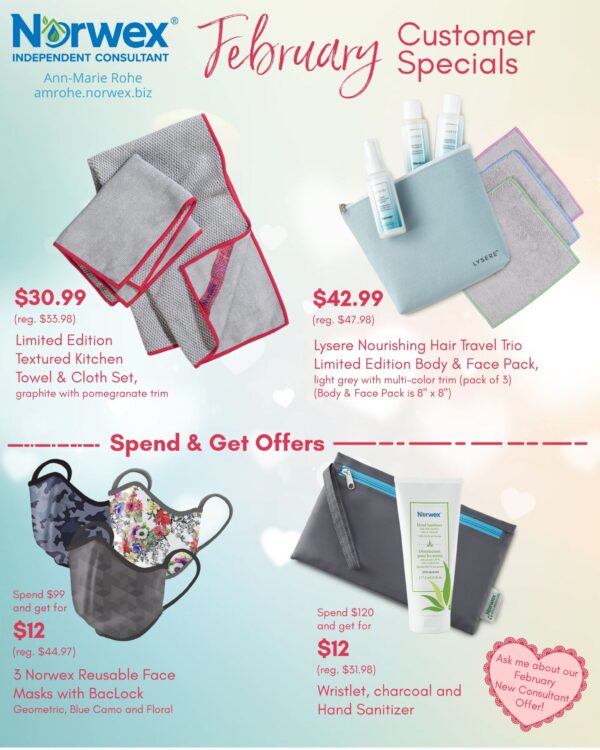 February New Consultant Specials
This month when you join Norwex as an Independent Consultant, you'll receive an enhancement with your starter kit:
Norwex Reusable Face Mask, floral
Norwex Reusable Face Mask, blue camo
Wristlet, turquoise
That's an additional $44 in products added to our new consultant starter kit! Take a look at some FAQs on becoming a Norwex consultant and reach out to me with your questions … I'd love to have a chat and see if it's the right fit for you and your family!